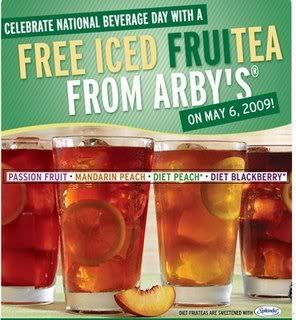 Offer has ended.
Today, May 6th Arby's is offering for National Beverage Day one of there FruiTea for free. Just pull up and say "I'm parched, FruiTea me!" and try one of 4 flavors: Passion Fruit, Mandarin Peach, Diet Peach or Diet Blackberry!
I tried the Diet Blackberry and really liked it while my sister tried the Manderine Peach flavor and thought hers was better.
Update: So we went and tried the other two flavors after my honey got off from work. I think they are both awesome!!! What a great treat.